General Industry Remuneration Report (Australia)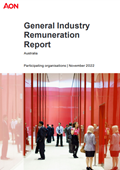 Employment market data and insights

Keep up with the latest remuneration trends, so you can make informed decisions about employee pay and benefits – and remain competitive.

Aon's bi-annual General Industry Remuneration Report is the largest report of its kind in Australia. A must-read for HR professionals, it provides comprehensive information on the Australian pay market.
Are you spending too much or too little on employee salaries?
If you make remuneration decisions without detailed information, your organisation could spend too much on talent or fail to attract in-demand skills, putting you behind the competition. Aon's remuneration reports help HR leaders interpret and respond to employment market data, so they can make informed decisions that help to improve business and talent management outcomes.
Have you considered recruiting from outside your industry?
Aon's General Industry Remuneration Report (Australia) can help you understand the benefits offered for comparable skills in other industries, and to benchmark roles, qualifications, experience and salaries against similar employers. By hiring talent from outside your industry, you can build a more diverse workforce, which can boost creativity and innovation. With wage constraints affecting most sectors, now is the time to understand not only the quantum data but the appropriate pay mix required to attract talent from further afield, and to take steps to reduce the risk of employee churn.
Wide range of industries
1,341
organisations

239,984
employees

549
key positions
Complete Remuneration Intelligence
All Aon surveys are designed to help decision-makers set pay with confidence across numerous rewards elements. Key remuneration details available include:
Base Salary
Superannuation
Benefits (cars, insurance, other benefits etc.)
Fixed Remuneration
Target and Actual Variable Pay broken down into Incentive/Commission/Bonus
Target Annual Remuneration
Allowances for overtime, on-call/standby, shift
Hundreds of Jobs Available
The General Industry Remuneration Report is focused on delivering a quality dataset representative of the broader market as a whole. Data for our comprehensive set of core roles is sourced from a wide variety of industries, including:
Hi-Tech, Telecommunications and Media
Banking and Financial Services
FMCG and Consumer Products
Engineering, Construction and Resources
Life Sciences
Property
Key Survey Features
When you participate in an Aon Remuneration Report, you gain access to numerous standard and custom reporting tools, all of which are updated with new data upon each release, as well as a host of additional benefits.
This survey will be upgraded in 2023 to the Radford Global Compensation Database, which combines data from leading Australia, New Zealand, and global companies into one intuitive portal. The Database includes Technology and Corporate IT roles, Sales Professionals, Media & Gaming, Life Sciences, Corporate Services, as well as other General Industry roles across retail, manufacturing and more.
Comprehensive coverage, with data on all major elements of the remuneration package; salary, benefits and both short and long-term incentives, as well as historical coverage of actual salary movements (with reports from the past five years available) and forecasts for the coming year.
Invitation to participate in other qualitative reports that provide access to quantitative and qualitative information, supporting the review and design of total reward programs.
The option to submit data once a year at a time that suits you, with a single data capture document, as well as the support of a dedicated remuneration analyst, who can assist with submitting your data and interpreting report results.
Invitation to remuneration forum that allows for robust discussions and the critical evaluation of data findings and market trends, while networking with industry peers.