Professional Services Remuneration Report (Australia)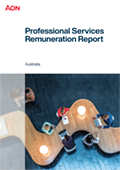 Over the past few years, the Professional Services industry has undergone significant change. For HR managers, the convergence of traditional consulting spheres has most notably led to a broadening of the consulting talent market. Due to this change, it is critical that remuneration benchmarks reflect the current state of play. It's also imperative that HR managers are acutely aware of remuneration trends and insights when it comes to the expanding disciplines in their firm's advisory portfolio.
Aon's Professional Services Remuneration Survey does just that; having been developed to provide a holistic overview on remuneration for organisations of all types and sizes across this broad industry. Helping firms to stay informed of market movements, this report ensures executives have reward strategies that meet business needs, while minimising costs. It is undoubtable that the investment in a remuneration report subscription will be repaid many times over in savings, through the optimisation of total reward spend, and of course, the retention of key talent.
Unmatched Survey Scale

53
organisations

19,604
employees

7
key positions
Complete Remuneration Intelligence
All Aon surveys are designed to help decision-makers set pay with confidence across numerous rewards elements. Key remuneration details available include:
Base Salary
Superannuation
Benefits (cars, insurance, other benefits etc.)
Fixed Remuneration
Target and Actual Variable Pay broken down into Incentive/Commission/Bonus
Target Annual Remuneration
Allowances for overtime, on-call/standby, shift
Hundreds of Jobs Available
Our team is exclusively focused on supporting companies operating in highly-competitive markets for talent. The Professional Services Remuneration Report includes the following key specialised fields:
Audit
Corporate Tax
Financial Advisory
Management Consulting
Risk Advisory
Legal Consulting
Technology Advisory (including data analytics, digital and robotics)
Brand and Marketing Advisory
Built Environment (including urban design and planning, architecture and real estate advisory).
Key Survey Features
When you participate in an Aon Remuneration Report, you gain access to numerous standard and custom reporting tools, all of which are updated with new data upon each release either annually or bi-annually, as well as a host of additional benefits. Features include:
Online, 24/7 access to survey results through Aon's renowned, market-leading Data Centre. The functionality allows for: filtering of survey data, combining market filters (such as revenue and industry); unlimited peer cuts; ageing data; reports showing your position to market; non-standard percentile calculations; custom/combined positions; position descriptions and bulk data.
Comprehensive coverage, with data on all major elements of the remuneration package; salary, benefits and both short and long-term incentives, as well as historical coverage of actual salary movements (with reports from the past five years available) and forecasts for the coming year.
Invitation to participate in other qualitative reports that provide access to quantitative and qualitative information, supporting the review and design of total reward programs.
The option to submit data once a year at a time that suits you, with a single data capture document, as well as the support of a dedicated remuneration analyst, who can assist with submitting your data and interpreting report results.
Invitation to remuneration forum that allows for robust discussions and the critical evaluation of data findings and market trends, while networking with industry peers.