We believe in supporting the community and have a long history of supporting charitable organisations, focusing our activities on improvements in the community around healthcare, welfare, education, the environment and research.
In 2006, the Aon Charitable Foundation (ACF) was established in Australia so we could support the community in a more strategic way.
Aon Charitable Foundation
The aim of the Foundation is to support the community by collectively making the most of Aon's financial support. We strive to provide opportunities for our people to give their time and expertise through volunteering.
Our partners
The Aon Charitable Foundation (ACF) currently supports four key charity partners through employee volunteering and financial contributions:
The Foundation also provides Aon colleagues with the opportunity to make donations to charities outside our key partners via our Workplace Giving and recognition programs.
CREATE Foundation

CREATE Foundation is a national charity dedicated to creating a better life for children and young people in care.
"Aon continue to be a very special supporter of CREATE, helping to create a better life for children and young people in care through their annual donation, volunteering, workplace giving program and Christmas gift drive, all of which are vital to CREATE's programming and support of those in the care sector. CREATE would love to extend a huge thank you to Aon for holding Christmas gift drives and running a workplace giving program all year round, as well as to its dedicated team of volunteers who regularly pack entering care kits, write birthday cards and help out at Christmas parties." – Jacqui Reed, Chief Executive, CREATE Foundation.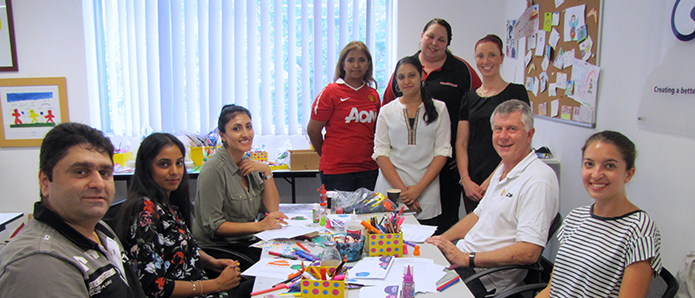 Conservation Volunteers Australia

Conservation Volunteers is a national not-for-profit organisation dedicated to attract and manage volunteers to participate in projects that protect or enhance our environment and heritage.
"Our partnership with Aon focuses on protecting and enhancing Australia's biodiversity via our endangered species program - Wild Futures. Aon staff are renowned for their commitment, dedication and hard work – the Aon staff volunteering program has made a real contribution to our programs and is highly valued by Conservation Volunteers. I would like to acknowledge the valuable support of Aon and staff and look forward to continuing our partnership." – Colin Jackson, Chief Executive, Conservation Volunteers.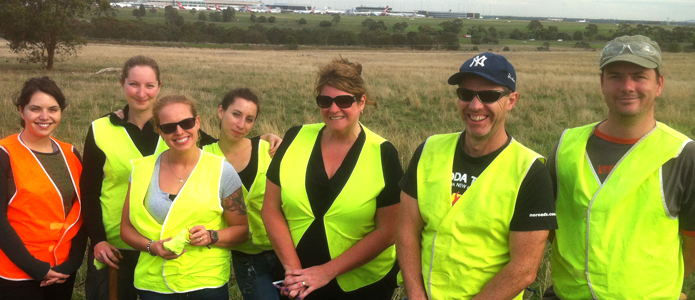 The Beacon Foundation

The Beacon Foundation is working toward an Australia that understands, cares and is motivated to support young people successfully transition to further education or meaningful employment. They approach this through programs targeting low school retention and engagement rates at disadvantaged schools, work readiness courses and pairing businesses and schools to work together on providing real pathways into employment for disadvantaged young Australians.
"On behalf of everyone at Beacon a sincere thank you for your incredible efforts in fundraising for Beacon Foundation through running the 2016 City2Surf. We at Beacon are incredibly grateful that you have chosen Beacon as your charity of choice and absolutely thrilled with the final result. The money will be well spent in changing the lives of young people across Australia." – Scott Harris, CEO Beacon Foundation.
Black Dog Institute

The Black Dog Institute (BDI) is a national not-for-profit organisation and medical research institute which aims to improve the lives of people affected by mental illness through research, clinical treatment including eMental health, education programs, community awareness and outreach. BDI are pioneers in the diagnosis, early intervention, prevention and treatment of mental illnesses such as depression, anxiety, bipolar disorder and at the forefront of suicide prevention.
Community and colleague engagement
Financial support is an important component of our activities, but our approach goes beyond writing a cheque. ACF believe there are many ways to extend our support and build an active program of community involvement.
We encourage all our colleagues to help our charity partners and the community by using their annual volunteer leave day to support engagement initiatives throughout the year. Aon colleagues provide additional community support by celebrating Empowering Results for Communities Day – Aon's global annual day of volunteering. In 2016, 875 Aon staff volunteered their time to help charities across Australia in over 100 different activities; making a significant impact to the communities we live and work in.
The ACF provides a valuable platform for employees across all of Aon to connect with the community, get involved, inspire others and give back to the wider community. Aon also provides office facilities to our charity partners to utilise and enable engagement with all their stakeholders; be it the children they support, the volunteers that help them, members of their Boards or potential donors.
Our standard relationship with a charity partner comes up for review every three years and our relationships with outgoing partners, the Leukaemia Foundation and The Smith Family, had continued from 2008-2016. Over the course of the partnership, Aon gifted the Leukaemia Foundation with $850,000 and 215 volunteer hours and The Smith Family received $630,000 and 3,471 volunteer hours.
Foundation Board
The ACF Board comprises one retired Director of Aon and four current employees. The Board members donate their time and there are no fees paid for their involvement.
Foundation Board
Eima Alkheder
Marise Maechler
Michael Green
Paul D'Arcy
Paul Venning
Foundation Manager
Fiona Norris
Mission statement
The ACF is committed to supporting our community by sharing Aon's human, intellectual and financial resources.
We strive to create a meaningful and lasting impact through our community involvement. This encompasses corporate philanthropy, employee giving and volunteer programs.
Get in touch